Videographer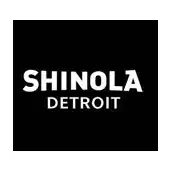 Shinola
Marketing & Communications
Detroit, MI, USA
Posted on Saturday, August 5, 2023
A Little About Us:
At Shinola, we've made a lasting commitment to making lasting things. World-class watches, beautiful leather goods, thoughtful gifts, and a hotel. If it's made, we want to try to make it better. With relentless optimism, tenacity, humor, and humility, we help people shine in an understated way.
Because we're a growing and evolving company, each employee is a key stakeholder, making decisions every day that directly impact our overall vision and direction. At Shinola, you'll have the opportunity to make a significant contribution at the start of what we believe will become an iconic American brand.
What You'll Be Doing:
We are looking for an experienced Videographer who will be responsible for driving the original video and motion content efforts for Shinola. You will be working alongside a team of passionate individuals to champion, create, hone and evolve the Shinola brand. You will be responsible for capturing world-class product beauty videos, documenting processes like watch-building in our factory, American manufacturing partners storytelling, creating content for Paid, Site, Wholesale, Social and internal needs. This role is a "key" function for the brand—which means the individual selected will need to align closely with the brand ethos/values—and work lockstep with other key voices on the brand (Creative Director, Art Director, Photographers, Social Media, Copywriters, Designers, Marketing, Ecomm, Dev.)
Job Highlights:
Get in sync with and champion brand tone, voice and aesthetic
Work alongside the creative team on ideations, creation, and production of content, assets, deliverables
Operate and maintain camera, audio, lights and other gear while filming in our studio space and out in the world
Be able to think conceptually and use internal tools such as key moments deck, newness grid to identify storytelling opportunities
Communicate effectively across departments to acquire product samples, set expectations internally when shooting for/within other departments
Always be thinking visually and narratively
Maintain organized working and final files. Archive files to server.
What You'll Bring:
You are a blend of:

1/3 Storyteller
1/3 DP
1/3 Camera Operator

You love Detroit and the Shinola brand
You are both left & right brained (have a keen technical side + creative side that allow for mastering the deliverables but allowing creative fluidity)
You are passionate about your craft, innovative in your mindset but rooted in strong foundational and traditional practices
You have excellent communication skills-written and verbal
You are meticulous in your work and execution, you know how to build a story, and how to drive emotion and where a punchline is needed
Experience juggling multiple projects and deadlines at once as well as working independently
You can apply critique and feedback to your work and can apply that feedback to future work
Keep abreast of the competitive landscape of lifestyle brands and culture in many mediums
Experience Needed:
Bachelor's degree or equivalent combination of education, experience and training
1-3 years professional videography, video production, editing experience within agency, brand, startup or successful freelance
Strong demo reel
Experience in a variety of digital capture formats
Experience in video editing and color grading. Adobe Suite Proficient/Expert. Program knowledge of Premiere Pro and AfterEffects with specific knowledge around frame rates, compression schemes, file formats, color correction and cameras. Davinci and phantom and drone camera knowledge is a plus
Skilled in video editing, color grading and audio mixing a production ready file
Post-Production pro using Adobe Premier and similar
Ability to work under deadline
Experience with equipment rental and equipment needs to achieve desired outcome on a project-by-project basis
Interview Process:
Complete online application in Greenhouse, submit resume & cover letter

Resumes without demo reel/portfolio will not be accepted
Answer screening questions & take short (3-5 question) quiz

Candidates meeting requirements will be contacted for a short phone screen
Virtual/zoom meetings with hiring manager(s) and potential homework assignment/case study
Location: Detroit, MI (Required)